8 Reasons You Need Digital Outdoor Signs to Promote Your Business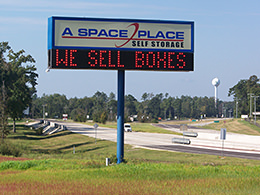 A digital outdoor sign for your growing business is not just a fashion statement or trend, but a necessary promotional tool that more and more businesses are embracing. It has been shown in many cases that digital outdoor signs can increase the sales of various types of businesses and service providers by attracting attention and bringing your business to the forefront of customers' minds. Gone are the days when a plain, boring, static sign was enough to draw attention to your establishment.
In a world where people are constantly bombarded with ads, screens, video, and images, you have to stand out to get your customers' valuable attention. A digital outdoor sign gives you a way to stay at the forefront of your customers' minds and drive them into your business. Contact us today to learn more about how Digital outdoor LED signs can change the way you market!
Benefits of Digital Outdoor Signs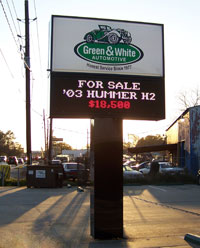 Attractive and Eye Catching – Digital LED signs can convey more information than traditional signs, and in a fun, eye-catching format. People love images and videos, so incorporating them into your digital outdoor sign will make sure people not only "see" your sign, but also actually pay attention.
Consumes Less Electricity – It may seem counterintuitive, but digital outdoor signs actually consume half the power that is used by the bulbs used in traditional signboards as they use energy efficient LED bulbs. This means your new Digital LED sign not only helps you generate more money, but also saves you money as well.
Better and Brighter – There is no denying that bright, flashy signs are more likely to attract your customers' attention. Digital LED signs glow brighter than all the rest helping you to stand out from the crowd. Regardless of the amount of ambient light, an LED sign continues to shine bright and remains visible day or night.
Durability – If you have ever used a traditional signboard, you know the pain of constantly changing out the bulbs as they burn out. No such tedious maintenance efforts are needed with outdoor digital signs, as they are easy to maintain and the bright LED bulbs last much longer compared to their counterparts.
Affordable – Investing in an outdoor digital sign might seem expensive initially, but when you consider the savings on maintenance costs and power, as well as the convenience factor, it becomes clear that LED signs are the economically sound choice.
Visibility – Unlike traditional signs, digital outdoor signs are highly visible from long distances, piquing your customer's interest long before they reach your business and allowing more time for them to read your messages.
Customization – All of our LED signs come with a dedicated laptop pre-loaded with software that makes it easy to dynamically change the text, graphics, or images on your sign to keep your message new and fresh. This mean you can easily promote your most current specials and sales.
Grabs Attention and Holds It - A digital outdoor sign makes an impactful first impression that traditional signs cannot. Program your sign to display things like time, temperature, and community events or news to keep people looking to your sign for useful information, thus keeping your business at the top of their minds.
Contact Us to Learn More About the Benefits of Digital Outdoor Signs
IBO Associates supplies a wide variety of digital outdoor LED signs that can help grow your business by making a dynamic impact and taking your marketing to a whole new level. If you are ready to give your business the edge over your competition, contact us today to speak with an LED sign specialist and to learn how digital outdoor signs and advertising with LED signs can help grow your business.
---
Testimonials
Richards ISD would like to thank you and Mike for a great product. We have gotten a lot of complements on our sign. We have been able to inform parents, students, and community members about events and information. The sign has been working great and is easy to use.
Mr. Boyce, Principal, Richards ISD
June 2016
We had double digit percentage increases in golf rounds and revenue the following year and I think that the signage played a major role in that success.
Rich Ballinger, Raven Nest Golf Club
Installation was simple and easy... It's now been over 5 years and the signs are still operating very efficiently. Job well done.
Grantland Cohen, A Space Place
We have had our electronic marquee 10+ years and have only had to call for help 2 times and both of those times were when we moved the modem to a new computer and you were right there to walk us thru and get us back up and running in no time and very quickly... I sincerely appreciate the partnership and look forward to many years to come.
Karen Odle, Vestavia Hills Chamber of Commerce