Outdoor LED Signs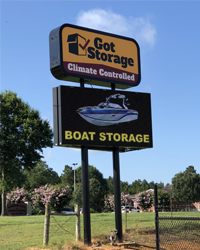 As a business owner, attracting and maintaining the attention of potential customers can be difficult. The rise of technology, including cable/satellite television, DVR's, internet radio and on-line newspapers  and the like have diluted traditional advertising has led to greater challenges to get your message noticed. These constant distractions cause businesses to go unnoticed every day, leaving money on the table for businesses that manage to stand out from the crowd. Rising above the noise takes great effort, but the payoff is well worth the energy spent. An outdoor LED sign that announces, in vivid color, seasonal or monthly specials along with public service announcements keeps your business in view of your customers. This connection with your customers creates "Top of the Mind Awareness". Therefore, building brand loyalty and obtaining new customers becomes easy when they are constantly in view of an interactive outdoor LED sign.
Recent studies have repeatedly shown that having an outdoor LED sign is the most cost effective advertising method for small business owners. You can easily advertise 24 hours a day, 7 days a week, and 365 days a year. Different advertising methods fail to generate the increase in sales and community awareness that outdoor LED signs can produce. If you are ready to start building brand awareness with an LED sign, contact us today at 888-966-0774 to get started!
A Complete Selection of Outdoor LED Signs
An outdoor LED sign needs to be distinct and attractive to stand out. At I.B.O. Associates, we supply a wide selection of LED signs for outdoor advertising. We carry an in stock inventory of our two most popular sign types that can be used to create captivating images and signs. These 20 millimeter pitch signs are available in stock in a matrix of 32 x 112 and 48 x 112 in the following styles:
Our most recommended outdoor LED sign is our Plus Series. These high quality outdoor LED signs allow for graphics, videos, movies, and animation displays in either monochrome or full color.
Our next most popular LED sign is the Traditional Series. While these signs can only display JPEG, ANI, FLW, and AVI files, these displays are perfect for close to mid-range views providing dynamic text and graphics.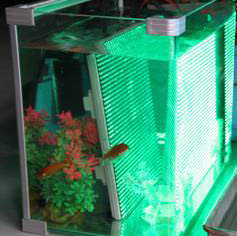 Every newly purchased sign comes with a spare power supply and LED module board that we leave on-site for our customer's convenience. I.B.O. Associates also provides all customers who buy a new outdoor LED sign with a laptop that is preprogrammed with our Software (Sigma3000 and sigma play) to help make designing attractive and attention grabbing signs easy, we have included a video library containing:
1800 video backgrounds
2000 HD images
Hundreds of still images
Over 500 fonts
You will also be able to upload and display your own pictures, videos, and logos on your display.
What Makes Our Outdoor LED Signs the Best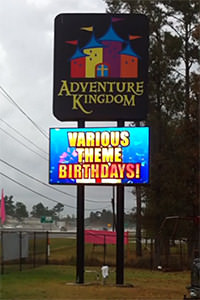 I.B.O. Associates knows your businesses' LED display is only as good as the company behind it. Therefore, all of the electronic signs and parts that we carry are UL approved and feature only the highest quality LED lights, which use just 10 percent of the energy as incandescent bulbs and are rated for over 100,000 hours of use. The integrity of our cabinet design on our outdoor LED signs is second to none; construction of the display is built to prevent water damage, and the entire sign is UL approved, not just the components.
Because we believe in the quality of our signs, every new outdoor LED sign comes with a 5-year warranty. Therefore, upon notice of a malfunctioning part, we will immediately send you a replacement to reduce any downtime of your sign. (You will need to return the malfunction part for warranty compliance)
For more information or to place an order for your LED sign, contact us online or by phone at 888-966-0774.
---
Testimonials
Richards ISD would like to thank you and Mike for a great product. We have gotten a lot of complements on our sign. We have been able to inform parents, students, and community members about events and information. The sign has been working great and is easy to use.
Mr. Boyce, Principal, Richards ISD
June 2016
We had double digit percentage increases in golf rounds and revenue the following year and I think that the signage played a major role in that success.
Rich Ballinger, Raven Nest Golf Club
Installation was simple and easy... It's now been over 5 years and the signs are still operating very efficiently. Job well done.
Grantland Cohen, A Space Place
We have had our electronic marquee 10+ years and have only had to call for help 2 times and both of those times were when we moved the modem to a new computer and you were right there to walk us thru and get us back up and running in no time and very quickly... I sincerely appreciate the partnership and look forward to many years to come.
Karen Odle, Vestavia Hills Chamber of Commerce