LED Auto Dealership Signs Bring Customers Through The Door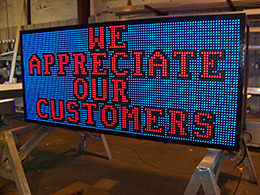 Messages that carry a sense of urgency generally command a lot of attention. In the automotive business, this can mean thousands of dollars potentially headed your way. A new LED dealership sign gives you the opportunity to advertise holiday greetings, event announcements, sports broadcasting, and special offers. This all leads to greater traffic, as they motivate customers who are already thinking of making a purchase to take advantage of these special offers. Uniqueness is important in this day and age, due to customers constantly being surrounded by advertising and promotions.
A traditional outdoor display has a tendency to fade into the background - essentially the dealership sign is not effective because customers disregard what looks like all of the other advertisements around it. This is a huge problem as a business owner. A new LED dealership sign can be updated regularly and creates a distinct impression on your customers.
Call us today at 888-966-0774 to speak to an LED sign specialist and discover how a new LED sign can help increase your bottom line for your dealership, auto repair shop, and more!
Dealership Signs: Our Options & Signs
At I.B.O. Associates, we have new 20 millimeter outdoor electronic message displays in stock that are guaranteed to bring color and life back to your business. Impress your customers with striking images of new cars that can be seen from great distances away. Display information such as special offers, community announcements, support for the local sports team, time and temperature, and other newsworthy information. Ultra-bright LED technology showcases your business in the brightest way possible. Brighter dealership signs grab more attention, meaning more money for you.
We also supply indoor LED signs too. One-line, two-line, and multiple line message displays will be the catalyst for increased performance and information retention by your potential customers, with impactful messages in red, green, blue, and amber.
All of our dealership signs are built with rugged, yet elegant, aluminum composed of 30 percent black polyurethane for completely sealed cabinets. Dedicated to quality, our signs are designed to last for years, meaning your business gets a reliable return on investment. Studies continually show that a new LED sign is the most cost effective form of advertising for any small business owner.
LED Signs: Easier and More Convenient than Traditional Dealership Signs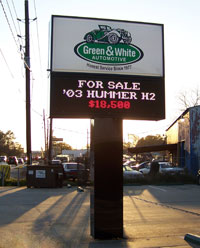 Full-color videos and graphics give LED dealership signs the ultimate attention-grabbing power. Build your brand's visibility, create more awareness, and influence your customer's decisions with a new LED sign. Static signs become tiresome and are easy for your customers to ignore, yet with a new LED dealership sign your flexibility increases exponentially by easily changing information and marketing angles. Easily changed from your computer, you can see how your advertisements and marketing are working in real-time. The beauty of LED signs is, if this aspect of your marketing is not working, than you can just change it. This versatility is unmatched when compared to traditional outdoor display options.
All I.B.O. electronic message centers are designed to last. Every purchase of a new LED sign comes with a 5 year warranty. Just give us a call if a piece malfunctions, and we will send you a new one no questions asked.
Learn More About the Benefits of LED Dealership Signs
If you are ready to grow your business and start bringing new customers through the door, we would love to speak to you! Give I.B.O. a call at 888-966-0774, and one of our LED sign sales representatives can answer all your questions and aid in purchasing a new dealership sign for your business.
---
Testimonials
Richards ISD would like to thank you and Mike for a great product. We have gotten a lot of complements on our sign. We have been able to inform parents, students, and community members about events and information. The sign has been working great and is easy to use.
Mr. Boyce, Principal, Richards ISD
June 2016
We had double digit percentage increases in golf rounds and revenue the following year and I think that the signage played a major role in that success.
Rich Ballinger, Raven Nest Golf Club
Installation was simple and easy... It's now been over 5 years and the signs are still operating very efficiently. Job well done.
Grantland Cohen, A Space Place
We have had our electronic marquee 10+ years and have only had to call for help 2 times and both of those times were when we moved the modem to a new computer and you were right there to walk us thru and get us back up and running in no time and very quickly... I sincerely appreciate the partnership and look forward to many years to come.
Karen Odle, Vestavia Hills Chamber of Commerce