Discounts for Dealers, Installers, Fabricators, & LED Sign Companies
At I.B.O. Associates, we like to think that we are not just a sign company, but that we are a family. We value our customers and want to reward our loyal customers with discounts and special offers, which is why I.B.O. Associates offers LED sign companies, dealers, fabricators, and installers the opportunity to become a part of the I.B.O. family.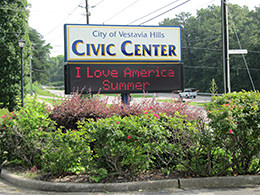 If you are a dealer, installer, or fabricator looking for high quality LED signs at wholesale prices, we encourage you to sign up with us to become an associate member. By becoming a member, customers receive a discount on all purchases of LED signs and parts. We want sign companies across the United States to trust us for their electronic messaging displays, which is why we give you some of the greatest deals and discounts on the market. For more information about becoming a member, contact us online or give us a call at 888-966-0774 to speak to a representative about joining other successful LED sign companies in our network.
Membership Benefits for LED Sign Companies & Installers
At I.B.O. Associates, we think that integrity and professionalism should be standard for any business. That is why joining other sign companies in becoming an associate member can be so beneficial to your business. Not only do you get exceptional customer service that we have become known for, but you also get discounts on all I.B.O. products.
LED Sign Industry Expertise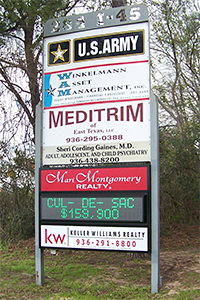 Not only do members receive this extraordinary discount option, but they also get the benefit of our industry expertise. We will gladly answer any of your questions whenever you may have them, and our expert sales staff can aid your LED sign company in selecting the appropriate sign for your customers.
No Cost Lead Generation
Additionally, by becoming an associate member your sign company will also receive leads generated through our website which are tailored to your zip code and surrounding zip codes. This all comes as a no cost marketing tool to help our LED sign companies grow. We know that by helping your business grow you help us grow too.
How Sign Companies Can Become Members
With all of the advantages that I.B.O. Associates offers our associate sign companies, we know that I.B.O. Associates has the ability to help LED sign companies reach another level in revenue and profit which is why we are so excited to partner with your digital sign company. To become a member and start saving today, give us a call at 888-966-0774 or contact us online.
---
Testimonials
Richards ISD would like to thank you and Mike for a great product. We have gotten a lot of complements on our sign. We have been able to inform parents, students, and community members about events and information. The sign has been working great and is easy to use.
Mr. Boyce, Principal, Richards ISD
June 2016
We had double digit percentage increases in golf rounds and revenue the following year and I think that the signage played a major role in that success.
Rich Ballinger, Raven Nest Golf Club
Installation was simple and easy... It's now been over 5 years and the signs are still operating very efficiently. Job well done.
Grantland Cohen, A Space Place
We have had our electronic marquee 10+ years and have only had to call for help 2 times and both of those times were when we moved the modem to a new computer and you were right there to walk us thru and get us back up and running in no time and very quickly... I sincerely appreciate the partnership and look forward to many years to come.
Karen Odle, Vestavia Hills Chamber of Commerce