Indoor LED Signs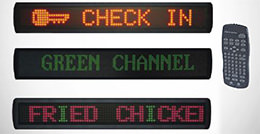 It is a basic principal of marketing that customers who are exposed to interesting and memorable experiences are more likely to remember these than customers who have a dull experience. An indoor LED sign has the ability to change information very quickly, thus allowing you to promote new messages and specials with ease. When a customer continually sees the same advertisement, they become desensitized to it. However, changing the information maintains visual impact, which is engaging to the viewers.
Therefore, when indoor LED signs are used to display various specials, features, and other important information, which can be updated on a regular basis, this engages the customer and increases interest.
To learn more about the uses and benefits of indoor LED signs and how they can get you noticed by your customers, contact us today online or by phone.
A Complete Selection of Indoor LED Signs
I.B.O. Associates offers one-line, two-line, and multi-line message displays in many colors including red, green, amber, and multi color. Our indoor LED signs are made with lightweight yet strongly built aluminum cabinets that are UL approved. The integrity of our indoor LED signs is unmatched, and our cabinet construction design prevents damage to the sign.
All of our indoor LED signs feature excellent brightness that comes from top quality dot matrix construction. Therefore, these signs can produce crisp images, text, or animations. We also provide various mounting options for ease of location placement.
Our electronic message displays allow you to display information such as special offers, community announcements, support for the local sports team, as well as other newsworthy information. Displaying this information is made easy because with every purchase of a new electronic message display, we provide a laptop that is preprogrammed with graphics and animation software. This user-friendly software allows you to combine text and graphics when creating your digital messages. Features of our software include:
Over 170 display modes and 7 levers of speed available
Accepts any language that can be found in Windows System files (including English, Spanish, Chinese, Japanese, etc.)
Log function
Real-time time and temperature display

Keep Your Business Fresh with an Indoor LED Sign
With your new indoor LED sign, it will be easy to display the latest news and information. Whether promoting limited offers and specials or showing support for a local sports team, having a unique and refreshing advertising medium that constantly engages customers will create more revenue for you.
To learn more about the benefits of indoor LED signs or to learn how you can use and LED sign to promote your business, call us at 888-966-0774 to speak to a dedicated sales representative who can assist you in finding the right indoor LED sign for your business.
---
Testimonials
Richards ISD would like to thank you and Mike for a great product. We have gotten a lot of complements on our sign. We have been able to inform parents, students, and community members about events and information. The sign has been working great and is easy to use.
Mr. Boyce, Principal, Richards ISD
June 2016
We had double digit percentage increases in golf rounds and revenue the following year and I think that the signage played a major role in that success.
Rich Ballinger, Raven Nest Golf Club
Installation was simple and easy... It's now been over 5 years and the signs are still operating very efficiently. Job well done.
Grantland Cohen, A Space Place
We have had our electronic marquee 10+ years and have only had to call for help 2 times and both of those times were when we moved the modem to a new computer and you were right there to walk us thru and get us back up and running in no time and very quickly... I sincerely appreciate the partnership and look forward to many years to come.
Karen Odle, Vestavia Hills Chamber of Commerce