LED Products and LED Signs
At I.B.O. Associates, our goal is help our customers generate new business by selling LED signs that are long-lasting and effective. Studies done by the U.S. Small Business Administration show that LED advertising signs are one of the most profitable forms of advertising available. Electronic message displays have the ability to prime a business' target audience with pertinent information in a unique and entertaining way, aiding in a successful sale.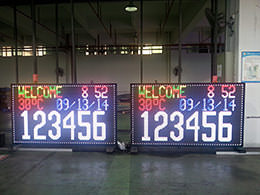 With competition for your customers' attention so fierce, business owners need to maximize advertising effectiveness, and LED signs continually generate greater customer action as compared to other advertising and marketing methods. Illuminated signs showcasing dazzling animations and powerful displays keep your business on the forefront of customer's minds. Learn more about Why your Business Needs Digital Outdoor Signs.
Contact us today at 888-966-0774 to speak with an LED sign expert, and watch your marketing ideas come to life with just the click of a button.
Our LED Sign Products
We provide a wide variety of LED signs and products. These state-of-the-art imported and USA manufactured LED signs, include:
We supply a variety of styles for LED sign displays, including new 20 millimeter monochromatic and full color displays in stock. All in stock signs and parts can be shipped quickly to customers across the country. We can also place custom orders for any style of LED signs that we do not have in stock.
We Only Provide Top Quality LED Advertising Signs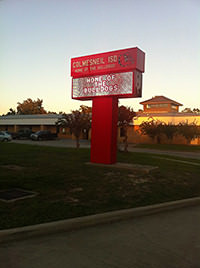 We believe that every sign we send out to a customer is more than a sale; it is a stake on our reputation. We could easily be paying half the cost for our LED signs, but our customers expect they best, and they expect our products to last, which is why we offer a 5-year warranty on all new LED signs.
All LED advertising signs are built to be UL approved; manufactured with beautifully styled aluminum cabinetry, made of 30 percent black gloss polyurethane for a fully enclosed display. LED technology produces stunning brightness, while only using 10 percent the energy as compared to incandescent bulbs. Therefore, our LED advertising signs provide versatility unpatrolled to other advertising options.
Every purchase of a new electronic message display also comes with a laptop, preprogrammed with our custom software for ease of use. You can create and animate your text, photos, and videos for impressive visuals, which can be shown night or day. With a new LED advertising sign from I.B.O. Associates, you will be well on your way to getting seen by your customers and increasing your bottom line.
Call Us to Learn More About LED Advertising Signs
Whether you are a brand new business owner looking to get your name out to the public in dazzling fashion or a seasoned executive trying to maintain brand recognition, I.B.O. Associates has the LED sign for you. Take comfort knowing that by contacting us, you are getting in touch with a company that strives for quality, dependability, and excellence in everything we do. Give us a call at 888-966-0774 to become a member or to place an order for your new LED sign.
---
Testimonials
Richards ISD would like to thank you and Mike for a great product. We have gotten a lot of complements on our sign. We have been able to inform parents, students, and community members about events and information. The sign has been working great and is easy to use.
Mr. Boyce, Principal, Richards ISD
June 2016
We had double digit percentage increases in golf rounds and revenue the following year and I think that the signage played a major role in that success.
Rich Ballinger, Raven Nest Golf Club
Installation was simple and easy... It's now been over 5 years and the signs are still operating very efficiently. Job well done.
Grantland Cohen, A Space Place
We have had our electronic marquee 10+ years and have only had to call for help 2 times and both of those times were when we moved the modem to a new computer and you were right there to walk us thru and get us back up and running in no time and very quickly... I sincerely appreciate the partnership and look forward to many years to come.
Karen Odle, Vestavia Hills Chamber of Commerce