LED Gas Price Signs: Convenient and Eye-Catching
No other industry in the nation is transitioning to LED signs quite like the gas station industry. Varying gas prices in constant need of quick updating and easy visibility make LED gas price signs the standard option for gas station owners. Our most popular products for gas stations are digital price changers. These signs come in red and green colors with many different digit sizes from 6 inches to 36 inches, and are easy to install with a retro-fit.
Think about how much time is spent changing your gas price sign. Now think about how great it would be if you could update prices with just a press of a few buttons. Well, LED gas price signs from I.B.O. Associates allow you to do just that! Not only do LED gas price signs make life easier for you, they are brighter and much more attention grabbing than traditional non-LED signs.
Contact us today at 888-966-0774 to learn more about LED sign options for your gas station.
LED Gas Price Signs and Other Signage Options for Gas Stations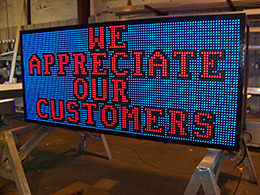 While LED gas price signs are the most common type of signs we supply to gas stations, we also supply a wide range of options and signs that can help gas stations and convenience stores grow their business. Many other common types of products we supply for this industry include new ID panels, LED retro-fit for ID panels, new or replacement monochrome and full color message centers.
These include our Traditional and Plus series monochrome or full color 20 millimeter outdoor displays, allowing 2 to 12 lines of content, which are ideal for mid-range viewing. This common display provides dynamic text, graphics, and animations bringing you great image resolution with increased distance visibility. Outdoor LED signs can be used to display promotions and specials on a variety of products. When designing content for your LED gas price sign, make sure that your target audience can read the message you want to tell them. An outdoor LED sign performs effectively when it stands out compared to its surroundings, generating massive attention from your customers.
Choosing the Perfect LED Gas Price Sign
When you are buying a new LED gas price sign or any LED sign for your business, it is crucial to select the right sign. This will esure your money and effort are put to proper use when developing and installing a new outdoor electronic message display. Customers who are looking for the lowest gas prices need to easily see and read your business and prices.
Below is a chart showcasing popular dimensions for LED gas price signs (shown in inches):
Digit Size
6.0
8.0
10.0
12.0
16.0
18.0
24.0
26.0
In-set Dimension
9.65X19.20
10.75X23.75
13.10X30.10
15.25X35.00
19.00X44.75
20.60X47.00
25.5X58.25
28.00X64.25
Outside Dimension
9.8X20.4
11.5X25.6
13.6X31.8
16.65X36.6
21X46.7
22.1X48.5
27.3X60.2
30.25X66.5
Why Choose Our LED Gas Price Signs
The beauty of a new LED gas price sign is the energy efficiency it provides for your business. We provide all our customers with the newest in LED technology, ensuring that you receive the brightest bulbs available. However, even though you are receiving unrivaled brightness and visibility, LED bulbs only use 10 percent of the energy as compared to incandescent bulbs. All new LED gas price signs we supply are built to be UL approved, with beautifully styled aluminum, made with 30 percent black polyurethane for fully sealed cabinetry. We focus exclusively on only the highest quality craftsmanship, meaning your sign is built to last for years down the road.
We are so confident in our ability to provide the best materials that we offer a 5 year warranty on all new signs. If a part ever malfunctions or fails just let us know and we will send you a new one, your installer only needs to make one trip to fix your sign, guaranteeing minimal downtime on your LED sign.
Order Your LED Gas Price Sign Today
At I.B.O. Associates, we help you save money and grow your business by capturing people's attention. Call us at 888-966-0774 to speak with a knowledgeable sales representative who will assist you in ordering a new LED sign for your gas station.
---
Testimonials
Richards ISD would like to thank you and Mike for a great product. We have gotten a lot of complements on our sign. We have been able to inform parents, students, and community members about events and information. The sign has been working great and is easy to use.
Mr. Boyce, Principal, Richards ISD
June 2016
We had double digit percentage increases in golf rounds and revenue the following year and I think that the signage played a major role in that success.
Rich Ballinger, Raven Nest Golf Club
Installation was simple and easy... It's now been over 5 years and the signs are still operating very efficiently. Job well done.
Grantland Cohen, A Space Place
We have had our electronic marquee 10+ years and have only had to call for help 2 times and both of those times were when we moved the modem to a new computer and you were right there to walk us thru and get us back up and running in no time and very quickly... I sincerely appreciate the partnership and look forward to many years to come.
Karen Odle, Vestavia Hills Chamber of Commerce