Commercial LED Signs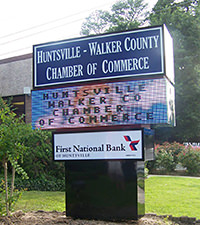 In today's high technology world, people are constantly surrounded by advertisements and promotions. This inundation with ads and technology has made it even harder to get customers to pay attention to what you have to say. Getting your business name, message, or event seen should be on the top of every business owner's mind. Stand out, make an impression, and attract large attention with a new outdoor or indoor commercial LED sign.
I.B.O. Associates specializes in providing state-of-the-art imported or USA manufactured commercial LED signs for businesses across the country. We have some of the most popular styles of signs and a complete selection of parts in stock right now for your convenience and can provide prompt delivery on these products.
A new commercial LED sign is exactly what you need to boost sales and drive up your bottom line. Contact us today to learn more about how you can generate more customers with a new commercial LED sign.
Commercial LED Signs for Every Application
Our most popular style outdoor LED sign for commercial consumers is the 20 millimeter sign. These allow you to create a mesmerizing visual that is certain to draw customer attention. These new signs are perfect for displaying 2 to 12 lines of text in colors ranging from red, green, amber, and everything in between. All our LED signs are built to be UL approved with LED bulbs that are rated for over 100,000 hours of use, while only using 10 percent of the energy as compared to incandescent bulbs.
According to studies done by the US Small Business Administration, commercial LED signs are the most cost effective form of advertising available for business owners. Customers continually tell us that our commercial LED signs have helped grow their business nearly instantly. Our commercial LED signs make it easier and more cost effective than ever to display information such as special offers, community announcements, support for the local sports team, time and temperature, and other news worthy information. Commercial LED signs are perfect for: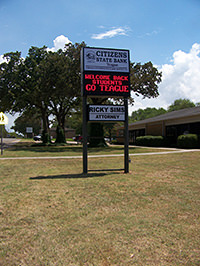 Banks
Convenience Stores
Financial Institutions
Furniture Stores
Pharmacies
Supermarkets
HVAC Companies
…and more!
What You Get with Your LED Sign Purchase
All new commercial LED signs that we sell come with a laptop, preprogrammed with our special design software, enabling the combination of text, video, graphics, and animation for your electronic display. We provide you with a multitude of prepackaged photos, videos, and animated clip-art including:
1800 video backgrounds
2000 HD images
Hundreds of still images
500 fonts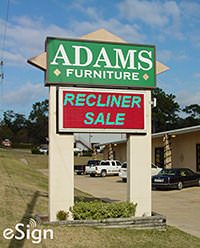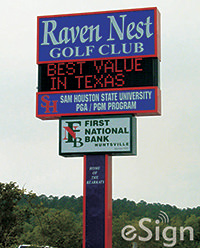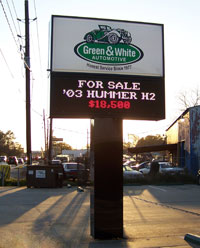 This software aids all our customers in creating a visually stunning display that can attract more attention and convey more information than words alone. It will help improve the aesthetic appeal of your business. Unlike traditional outdoor displays that need to be designed and printed, commercial LED signs can be changed instantly, by update your LED sign right from your computer with just the click of a button. These changes can be shown in real time, with scheduling options based on the time of day, month, or year.
Contact Us to Learn More About Commercial LED Signs
Call us at 888-966-0774 to get more information on how to improve your business' bottom line with a new commercial LED sign from I.B.O. Associates. No matter what industry you are in, our friendly representatives can help you find the solution to your advertising needs.
---
Testimonials
Richards ISD would like to thank you and Mike for a great product. We have gotten a lot of complements on our sign. We have been able to inform parents, students, and community members about events and information. The sign has been working great and is easy to use.
Mr. Boyce, Principal, Richards ISD
June 2016
We had double digit percentage increases in golf rounds and revenue the following year and I think that the signage played a major role in that success.
Rich Ballinger, Raven Nest Golf Club
Installation was simple and easy... It's now been over 5 years and the signs are still operating very efficiently. Job well done.
Grantland Cohen, A Space Place
We have had our electronic marquee 10+ years and have only had to call for help 2 times and both of those times were when we moved the modem to a new computer and you were right there to walk us thru and get us back up and running in no time and very quickly... I sincerely appreciate the partnership and look forward to many years to come.
Karen Odle, Vestavia Hills Chamber of Commerce