LED Lighting Products: Parking Lot Lighting, Canopy Lighting, & LED Retrofit Lighting
Businesses today are constantly looking for new ways to increase their bottom line, and one way is to decrease energy expenditure. By using ultra-bright LED bulbs your business can create intense lighting at only 10 percent the cost of incandescent bulbs. These are the little details that most businesses overlook, yet this detail makes an impactful presence on your bottom line.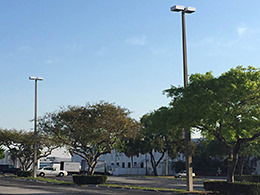 Let I.B.O. Associates worry about your lighting needs while your company focuses on growth and expansion. We supply a wide selection of LED lighting solutions. This includes LED parking lot lighting, LED canopy lighting, and retrofit for ID panel lighting. Be the leader of your industry and reduce your hidden costs of energy consumption by transitioning to new LED technology.
Contact us today online or at 888-966-0774 to learn more about the benefits of our LED lighting and signs and the products we have available.
The Benefits of Upgrading to LED Lighting Solutions
At I.B.O. Associates, we provide our customers with a superior product and a proven track record of quality. We believe that our customers deserve the best, which is why we strive for excellence every day. Focusing on the details that other companies miss has allowed us to maintain a large base of satisfied customers. We supply only the highest quality LED lighting products, and our lights are built to last with durable materials requiring minimal repairs and maintenance.
Recent improvements in LED technology allows your LED lighting to run cooler, draw less power, and cost less as compared to other lighting options. All I.B.O. LED lighting is UL approved, and our LED bulbs are rated for 100,000 hours of use. Additionally, making the switch to LED lighting is easier than ever with narrow profile and lightweight construction for easy installation.
Investing in LED lighting upgrades can mean a significant cost savings over time both through reduced operating costs as well as longer lasting bulbs. LED lighting is 100 percent solid state, meaning no moving parts that can decay. Therefore, most LED bulbs have an expected lifespan that is much longer than traditional incandescent bulbs.
Learn More About Our LED Lighting Options
 As your LED lighting supplier, we have many products in stock right now, along with the ability to custom order any products to meet your individual needs. We also offer full technical support to help you get the most out of your LED lighting system. From helping you select the best products to getting products to you quickly, we are ready to work with you every step of the way. Call us at 888-966-0774 to speak to a knowledgeable sales representative and to learn more about our LED signs and lighting solutions.
---
Testimonials
Richards ISD would like to thank you and Mike for a great product. We have gotten a lot of complements on our sign. We have been able to inform parents, students, and community members about events and information. The sign has been working great and is easy to use.
Mr. Boyce, Principal, Richards ISD
June 2016
We had double digit percentage increases in golf rounds and revenue the following year and I think that the signage played a major role in that success.
Rich Ballinger, Raven Nest Golf Club
Installation was simple and easy... It's now been over 5 years and the signs are still operating very efficiently. Job well done.
Grantland Cohen, A Space Place
We have had our electronic marquee 10+ years and have only had to call for help 2 times and both of those times were when we moved the modem to a new computer and you were right there to walk us thru and get us back up and running in no time and very quickly... I sincerely appreciate the partnership and look forward to many years to come.
Karen Odle, Vestavia Hills Chamber of Commerce