LED Restaurant Signs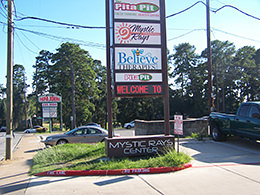 There is nothing easy about being in the restaurant industry. Whether you are a small family-owned restaurant or large, corporate dining establishment, you absolutely have to get noticed to get people walking through the door. A few slow days can spell doom for a brand new restaurant, so you need a budget-friendly, effective way to grab the attention of people in your community. LED restaurant signs from I.B.O. Associates may be just what you need to attract new customers.
You can use your new restaurant sign to share daily specials, open hours, special events, and other information that will tempt passersby to step into your establishment. Unlike traditional restaurant signs where you place each individual letter, our LED restaurant signs make changing messages a breeze thanks to our included software and the help of our support team. Contact our LED sign specialists today at 888-966-0774 to learn more about how a new LED sign can help your restaurant grow!
Why Purchase An LED Restaurant Sign from I.B.O. Associates?
Businesses need to maintain high revenues, and in a low-margin industry such as food service, every detail counts. Switching to a new digital sign will not only help draw the attention of your customers, but it can be a cost effective switch for your business. All of our restaurant signs are built to be UL approved with the LED bulbs that are rated for over 100,000 hours of use, while only using 10% of the energy as compared to incandescent bulbs. Our LED restaurant signs help you to get noticed and save money!
What You Get with Your LED Sign Purchase
Our new 20 millimeter displays offer 2 to 12 lines of content for displaying dynamic text, graphics, and animations. Every new LED restaurant sign is also provided with a new laptop, fully programmed with our design software, aiding in creating multiple effects. Provided with the software is:
1800 video backgrounds
2000 HD images
Hundreds of still images
500 fonts
This gives our customers the ability to scale, crop, animate, and add creative effects to your digital messages; thus drawing more attention from customers.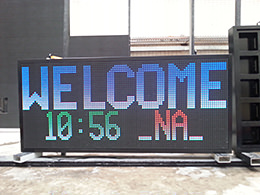 All of our LED restaurant signs are built with rugged, yet beautifully crafted, aluminum cabinetry. These signs are waterproofed with 30 percent gloss black polyurethane to ensure your sign lasts for years, with minimal repairs and maintenance necessary. Every new LED sign also includes a 5 year warranty; if any part malfunctions just let us know and we will send you a new one. Your installer only needs to make one trip for replacement, ensuring that downtime for your sign is at a minimum. For all USA manufactured signs, we also offer a 2 year labor warranty.
Call Today to Order Your LED Restaurant Sign
Stand above the noise with a new restaurant sign that will turn heads, and get people coming through the door. Give us a call at 888-966-0774 for more information on our LED signs or to place an order with one of our sales representatives.
---
Testimonials
Richards ISD would like to thank you and Mike for a great product. We have gotten a lot of complements on our sign. We have been able to inform parents, students, and community members about events and information. The sign has been working great and is easy to use.
Mr. Boyce, Principal, Richards ISD
June 2016
We had double digit percentage increases in golf rounds and revenue the following year and I think that the signage played a major role in that success.
Rich Ballinger, Raven Nest Golf Club
Installation was simple and easy... It's now been over 5 years and the signs are still operating very efficiently. Job well done.
Grantland Cohen, A Space Place
We have had our electronic marquee 10+ years and have only had to call for help 2 times and both of those times were when we moved the modem to a new computer and you were right there to walk us thru and get us back up and running in no time and very quickly... I sincerely appreciate the partnership and look forward to many years to come.
Karen Odle, Vestavia Hills Chamber of Commerce