Digital Billboard Advertising: Get Noticed!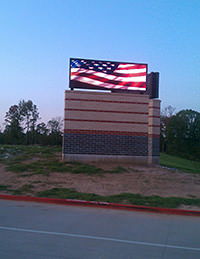 Signage and billboards have been around for years, however only recently have they started to gain extra attention from business owners because of digital displays. Large and small companies are switching to digital billboard advertising from the traditional options. When compared to traditional options, LED signs are in a class of their own. Studies have shown repeatedly that digital billboard advertising is the most cost effective methods for small business owners to build brand visibility and authority. The versatility, impact, and effectiveness of digital billboard advertising are unmatched.
At I.B.O. Associates, we constantly strive for perfection by supplying the highest quality materials and services, so customers stop passing your business by. We provide state-of-the-art imported and USA manufactured displays, composed of the best materials available, for the highest return on you investment.
Contact us at 888-966-0774 to get ahead of the pack with a new LED sign or digital billboard showcasing your business in the brightest way possible.
Why Digital Billboard Advertising?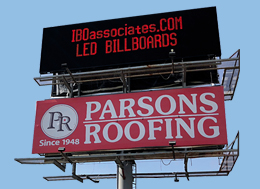 An outdoor advertising display should not blend in with its surroundings; if it does, than it is not doing its job. A new digital billboard gives you the opportunity to create stunning visual effects with colors ranging from red, green, amber, and everything in-between that will stand out from the surroundings both day and night. Chances are that you have probably found yourself stopping and taking the time to look at an LED sign when passing, and you can guarantee that your customers are doing the same.
Displaying information such as special offers and advertisements, community announcements, time and temperature, and other news worthy information will ensure people are constantly looking at your sign. Nothing is more effective at accomplishing your revenue goals than digital billboard advertising.
Our Digital Billboard Advertising Solutions
I.B.O. Associates offers a diverse set of options for digital billboard advertising, but our most popular LED signs are our Traditional series monochromatic and full color 20 millimeter signs, and our Plus series monochromatic and full color 20 millimeter signs. These outdoor displays show 2 to 12 lines of content and are perfect for mid-range viewing. These signs can provide dynamic text, graphics, and animations in high resolution for optimum visibility.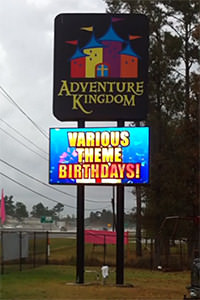 Creating striking displays that garner customer attention has never been easier. Unlike traditional outdoor displays that need to be designed and printed, digital billboard advertising allows you to quickly update your sign right from your computer. We even supply a dedicated laptop with each purchase that has been preprogrammed with our design software. This gives our customers the ability to scale, crop, animate, and add creative effects to all your text, images, and videos.
Your electronic message display is only as good as the company behind it, and I.B.O. Associates offers you the best software, content, training, and marketing support to aid in your businesses expansion. It is these details that make us one of the best digital billboard and LED sign companies in the market.
All of our new LED signs are built with one thing in mind, longevity. Our displays are made from beautifully, yet rugged, crafted aluminum and furnished with 30 percent black polyurethane for a fully sealed cabinetry, providing your with cost saving thermal insulation. All LED signs are built for UL approval, with LED bulbs rated at 100,000 hours of use, and they only use 10 percent the energy as compared to incandescent bulbs!
Learn More About Digital Billboard Advertising
Interested in learning more about how digital billboard advertising can help generate traffic for your business? Contact us today at 888-966-0774 or online to speak with our LED sign specialists. We can answer any questions you have about digital billboard advertising, and help you find the sign or billboard that best suits your company's unique needs.
---
Testimonials
Richards ISD would like to thank you and Mike for a great product. We have gotten a lot of complements on our sign. We have been able to inform parents, students, and community members about events and information. The sign has been working great and is easy to use.
Mr. Boyce, Principal, Richards ISD
June 2016
We had double digit percentage increases in golf rounds and revenue the following year and I think that the signage played a major role in that success.
Rich Ballinger, Raven Nest Golf Club
Installation was simple and easy... It's now been over 5 years and the signs are still operating very efficiently. Job well done.
Grantland Cohen, A Space Place
We have had our electronic marquee 10+ years and have only had to call for help 2 times and both of those times were when we moved the modem to a new computer and you were right there to walk us thru and get us back up and running in no time and very quickly... I sincerely appreciate the partnership and look forward to many years to come.
Karen Odle, Vestavia Hills Chamber of Commerce