Contact Us for LED Signs & More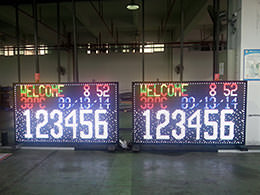 Whether you are a business owner, dealer, installer, or fabricator I.B.O. Associates strives to be your top choice for wholesale LED signs. Whether it is ordering custom LED signs, purchasing from our in stock inventory, or ordering LED sign parts, our sales representatives are available to help you with the friendly and professional style that I.B.O. Associates strives to achieve. Your business is important and our goal is to help you increase your bottom line. You can contact us using the information below:
We are also available to answer any questions you may have about installing a new LED sign. Trust in the industry leading experts to help you generate more leads and community recognition with our exceptional signs and service. Our dedicated representatives look forward to hearing from you and the possibility of helping your business achieve another level of success through digital signage!
Supplying Top Quality LED Signs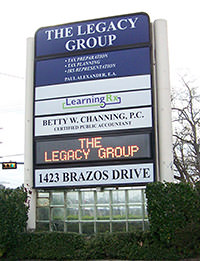 At I.B.O. Associates, we are dedicated to providing state-of-the-art imported and USA manufactured electronic message boards. You can use these LED signs outside to generate more attention to your business or use them indoors to display promotions, news, and important messages to you customers.
We make setting up and using your new sign as simple as possible. All pricing for our LED sign products includes a designated laptop, which is preprogrammed with graphics and animation software. Added to your purchase is a 5 year warranty, which ensures that our LED signs are free from any defects in materials or workmanship. During this time, I.B.O. Associates will repair or replace any defective component, excluding fluorescent lamps and ballasts, free of charge. If your sign is a USA display, we also offer a free 2 year labor warranty. Our top priority is to make sure that you are satisfied and that means that we are always willing to go the extra mile for our loyal customers and partners.
A Complete Solution for You LED Sign Needs
Not only do we provide you with the highest quality LED signs, but we also supply all types of parts including power supply, ribbons, control boards, and radios. We also carry parts for Adaptive signs that are no longer under the manufacturer's warranty. We continually amaze customers with the amount of products we have in stock and our quick delivery times.
Become a Member and Save on LED Signs
I.B.O. Associates has become a front runner for our customers because we not only provide the highest quality products at wholesale prices, but we also provide the opportunity to become an associate member, giving LED sign installers and fabricators access to 41 years' worth of experience and dedicated lead generation for your zip code and surrounding zip codes. With just a small annual fee, you can become a member and start reaping the benefits immediately.
To learn more or to place an order today, contact us online or by phone.
Testimonials
Richards ISD would like to thank you and Mike for a great product. We have gotten a lot of complements on our sign. We have been able to inform parents, students, and community members about events and information. The sign has been working great and is easy to use.
Mr. Boyce, Principal, Richards ISD
June 2016
We had double digit percentage increases in golf rounds and revenue the following year and I think that the signage played a major role in that success.
Rich Ballinger, Raven Nest Golf Club
Installation was simple and easy... It's now been over 5 years and the signs are still operating very efficiently. Job well done.
Grantland Cohen, A Space Place
We have had our electronic marquee 10+ years and have only had to call for help 2 times and both of those times were when we moved the modem to a new computer and you were right there to walk us thru and get us back up and running in no time and very quickly... I sincerely appreciate the partnership and look forward to many years to come.
Karen Odle, Vestavia Hills Chamber of Commerce