I.B.O Associates – Supplying Top Quality LED Signs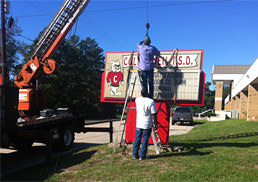 At I.B.O. Associates, we are a wholesale supplier of state-of-the-art imported and USA-manufactured LED signs. We provide a selection of outdoor LED displays, indoor LED displays (including window and indoor signs), LED ID panel retro-fit lighting, LED lighting, parts for out of warranty Adaptive LED signs, and new replacement displays. We pride ourselves on providing our customers with the highest quality LED signs along with exceptional customer service. Whether you are a LED sign installer, manufacturer, dealer, or an individual business we can help you find the best LED signs at affordable prices to get your business in front of customer's eyes.
According to studies done by the U.S. Small Business Administration, electronic message displays are the most cost effective form of advertising available to small businesses today. Electronic message displays help to increase brand recognition by your customers. Seasonal or monthly specials along with public service announcements keep your messages constantly in view and build 'Top of the Mind Awareness' for your customers. In other words, your customers will think of you first, when they need the product or service your business offers. For more information about our LED signs or to request a quote, contact us online or give us a call at 888-966-0774.
LED Signs Can Help Your Business Grow
Advertise your business 24 hours a day, 7 days a week, 365 days a year with an LED sign. You can display information such as special offers, community announcements, support for the local sports teams, time and temperature, and other newsworthy information. All of this increases customer trust with your business and keeps your business in the minds of your potential customers. Learn more about Why your Business Needs Digital Outdoor Signs.
IBO Associates message centers are UL approved and backed by a 5 year manufacturer's warranty. These signs use high quality LED lights that are rated at 100,000 hours of use and use only 10% of the energy of incandescent lighted message centers. We also have many new 20 millimeter displays, which are available in inventory for immediate delivery. For other LED signs and products, we have the ability to place customer orders to ensure you receive the quality you expect.
Features of Our LED Signs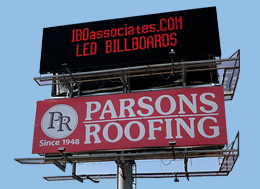 At I.B.O. Associates, we believe that getting your business more attention does not need to be hard. That is why we provide you with exceptional customer service and technical support, to make sure that you get the most benefit out of your electronic messaging center investment. All pricing for LED signs includes a designated laptop that is preprogrammed with operating software and graphics/animation library for safety and convenience. We carry an inventory of parts in stock and available for quick delivery, which shorten any down time due to a failure of parts such as power supplies, ribbons, control boards, and radios. We also offer a 5 year warranty on all new electronic displays, and for the USA manufactured displays that we supply, we offer a 2 year on-site labor warranty. Our special discounts and service ensure that your electronic messaging center keeps your business visible every day.
Learn More About I.B.O. Associates and LED Signs
It has been proven continually that LED signs capture and hold your customers attention. With the power of LED signs and electronic messaging centers at your disposal, your business will start seeing a jump in brand recognition and trust by your customers. Therefore, you can help grow and promote your business, connect with customers, and share important messages simply and easily.
To learn more about electronic messaging displays and to talk to one of our dedicated sales representatives please contact us online or give us a call at 888-966-0774.
---
Testimonials
Richards ISD would like to thank you and Mike for a great product. We have gotten a lot of complements on our sign. We have been able to inform parents, students, and community members about events and information. The sign has been working great and is easy to use.
Mr. Boyce, Principal, Richards ISD
June 2016
We had double digit percentage increases in golf rounds and revenue the following year and I think that the signage played a major role in that success.
Rich Ballinger, Raven Nest Golf Club
Installation was simple and easy... It's now been over 5 years and the signs are still operating very efficiently. Job well done.
Grantland Cohen, A Space Place
We have had our electronic marquee 10+ years and have only had to call for help 2 times and both of those times were when we moved the modem to a new computer and you were right there to walk us thru and get us back up and running in no time and very quickly... I sincerely appreciate the partnership and look forward to many years to come.
Karen Odle, Vestavia Hills Chamber of Commerce