LED Displays: Digital Displays / Digital Billboards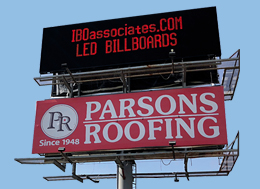 Are your best prospects passing your company by without a single thought? Advertising technology is changing faster than ever before, because your customers are changing too. Therefore, successful businesses must utilize new marketing techniques to create brand recognition, along with better awareness. For many, new digital displays/digital billboards are the perfect solution. LED displays/billboards help to get your business seen and make a powerful impact on passing drivers. Essentially, LED displays/billboards "prime" customers by creating awareness in your primary audience, the people driving by your business every day.
Customers are constantly surrounded by advertisements and promotions; which is why your digital display/digital billboard needs to stand out from the competition. Using a vibrant digital display/digital billboard can allow you to display information such as special offers, community announcements, support for the local sports team, time and temperature, and other news worthy information, while updating your message on a regular basis.
At I.B.O. Associates, we supply a large variety of digital displays/digital billboards, allowing multiple electronic message display options for creating greater impressions on customers. Contact us today to learn how our LED signs can help you stand out, make an impression, and attract large crowds to your business.
Advantages of Our LED Displays / Digital Billboards
Have you ever found yourself stopping and taking the time to look at an LED display or digital billboard? If the answer is yes, then we guarantee that your customers have done the same. A new LED display/billboard can be updated easily, keeping your content fresh and your business relevant. Displaying the same advertising for long periods creates staleness. Customers grow accustomed to the advertising and stop looking at a sign overtime. However, electronic message boards and digital displays/digital billboards are easily changed, allowing fresh content the opportunity to be seen.
Key features of our digital displays/digital billboards include:
Beautifully styled aluminum cabinetry, with a 30 percent gloss black polyurethane finish, generating cost saving thermal control.
UL approved with high quality LED lights that are rated for 100,000 hours and use only 10% of the energy as compared to incandescent bulbs.
Rugged aluminum enclosures, meaning your signs will last for years.
5-year warranty on all new LED signs. Just notify us of any malfunctioning parts and we will send you a new one.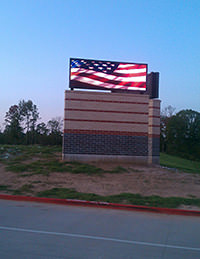 With every purchase of a new LED sign, you receive a laptop, preprogrammed with our graphics and animation software (Sigma3000 and Sigma Play). This package makes it easy to design eye catching advertisements. Our package includes:
1800 Video backgrounds
2000 HD images
Hundreds of still images
Over 500 fonts
Contact Us to Learn More About Our Digital Displays/Billboards
With a digital display/digital billboard, you can stand tall, make a mark on your town, and draw new customers to your business. Give us a call at 888-966-0774 to speak to a sales representative and to learn more information on our LED signs and how we can help promote your business.
---
Testimonials
Richards ISD would like to thank you and Mike for a great product. We have gotten a lot of complements on our sign. We have been able to inform parents, students, and community members about events and information. The sign has been working great and is easy to use.
Mr. Boyce, Principal, Richards ISD
June 2016
We had double digit percentage increases in golf rounds and revenue the following year and I think that the signage played a major role in that success.
Rich Ballinger, Raven Nest Golf Club
Installation was simple and easy... It's now been over 5 years and the signs are still operating very efficiently. Job well done.
Grantland Cohen, A Space Place
We have had our electronic marquee 10+ years and have only had to call for help 2 times and both of those times were when we moved the modem to a new computer and you were right there to walk us thru and get us back up and running in no time and very quickly... I sincerely appreciate the partnership and look forward to many years to come.
Karen Odle, Vestavia Hills Chamber of Commerce