LED Church Signs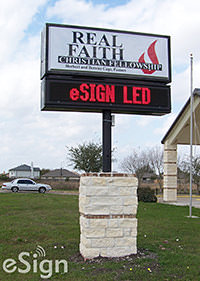 Does your church need an uplift? Struggling to get the message across in a vibrant and fun way? A new LED sign can help make your church a focal point of the community. I.B.O. Associates' indoor and outdoor LED church signs bring excitement, inspiration, and high visibility to your religious organization's programs. LED church signs can promote worship, social, school, and athletic activities to your community - and I.B.O. Associates makes it affordable for your church to acquire a state-of-the-art digital church sign. A new LED church sign allows your church to quickly change messages as well as display messages 24 hours a day, 7 days a week, 365 days a year.
With a new I.B.O. Plus series 20 millimeter LED sign, you can display 2 to 12 lines of content in colors ranging from red, green, amber, and everything in between. Ideal for close to mid-range viewing while providing dynamic text, graphics, and animation, this LED church sign will bring you great image resolution with increased distance visibility and marketing value. Contact us today to learn more about how an LED sign can help you spread the word about your church!
Why Choose an LED Church Sign from I.B.O. Associates?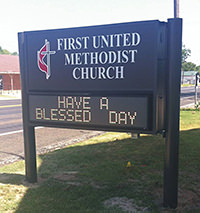 Transitioning to a new electronic message center can save your church both time and money. LED technology has the ability to create impactful visuals for people viewing your display while reducing energy costs. All of our LED signs are rated for over 100,000 hours of use, consuming only 10 percent the energy needed as compared to incandescent bulbs. We build all our LED signs to be UL approved with beautifully crafted aluminum cabinetry. This rugged and durable construction prevents water damage, and with a 30 percent gloss black polyurethane finish, also provides cost-saving thermal control. Our signs are made from non-breakable materials that last longer, requiring only minimal repairs and maintenance. Our LED signs are built to last years, which is why choosing I.B.O. Associates is always a smart investment.
Built in the USA, I.B.O.'s efficient LED electronic church signs instantly communicate any aspect of your ministries, with an impact that is sure to be remembered. With our signs, you can:
Inform your congregation and community of special services, prayer times, and holy days
Use your church sign to share daily or even hourly affirmations and spiritual statements with your entire community
Highlight upcoming festivals, weddings, activities, and fundraising events
Welcome important guests and groups - and even invite new members
Draw attention to your location with time, temperature, and date information on your church sign
Recognize members, staff, and ministry teams for accomplishments
A Complete Solution for Your LED Sign Needs
Regardless if you need parts like ID panels, LED retrofit for ID panels, new or replacement monochrome or full color message centers, I.B.O. Associates has what you need. Every new LED church sign comes with a laptop, preprogrammed with our custom design software, aiding you in scaling, cropping, animating, and adding creative effects for your new electronic message center. We also offer a multitude of prepackaged photos, videos, and animated clip-art. Your package includes:
1800 video backgrounds
2000 HD images
Hundreds of still images
Over 500 fonts
You will also be able to upload and display your own pictures, videos, logos, and custom animations on your display.
Learn More About LED Church Signs
From chapel to campus, I.B.O. Associates makes it easy to spread the Word outside of your church, temple, or worship center using our durable monochrome and full color LED displays on our outdoor church signs. Incorporate indoor LED signs into worship halls to show hymn numbers, at entryways to direct visitors, and even as moving, animated LED "bulletin boards".
Give us a call at 888-966-0774 to speak to one of our LED sign sales representatives today and to learn more about our LED signs available!
---
Testimonials
Richards ISD would like to thank you and Mike for a great product. We have gotten a lot of complements on our sign. We have been able to inform parents, students, and community members about events and information. The sign has been working great and is easy to use.
Mr. Boyce, Principal, Richards ISD
June 2016
We had double digit percentage increases in golf rounds and revenue the following year and I think that the signage played a major role in that success.
Rich Ballinger, Raven Nest Golf Club
Installation was simple and easy... It's now been over 5 years and the signs are still operating very efficiently. Job well done.
Grantland Cohen, A Space Place
We have had our electronic marquee 10+ years and have only had to call for help 2 times and both of those times were when we moved the modem to a new computer and you were right there to walk us thru and get us back up and running in no time and very quickly... I sincerely appreciate the partnership and look forward to many years to come.
Karen Odle, Vestavia Hills Chamber of Commerce