LED Self Storage Signs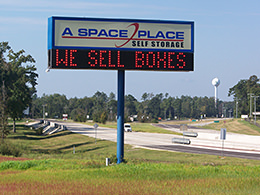 As the owner of a self storage facility, getting your business's name known to the public can be daunting. Self storage is a broad market, ranging from families to executive businessmen, which means your marketing needs to tight and effective. Advertising is a significant factor in creating a successful venture for the competitive investor or owner, especially when there are numerous ways to reach your audience, but only a few effective plans generate real results. An LED self storage sign for your business is crucial to your long-term viability as customers remember the company that grabs their attention with a well-crafted outdoor display.
With the recent advancements in technology, many businesses owners are transitioning to new LED self storage signs to increase brand awareness and keep energy costs low. By displaying special deals and pertinent information like time and temperature, you give people a reason to keep checking your sign, keeping you on the top of their minds. Contact us today at 888-966-0774 to speak with an LED sign specialist on how self storage signs can help you generate new customers!
The Benefits of an LED Self Storage Sign for Your Business
Many storage facilities find that the majority of their customers come from a relatively small radius. A new LED self storage sign makes your company stand out from the crowd, making an impression on people as they pass by your sign and creating new customers, and in the self-storage marketplace these customers generally stay with your business for years
 Studies done by the US Small Business Administration have shown that electronic message displays are the most cost effective form of advertising for small business owners. An outdoor LED self storage sign creates a stunning visual, 24 hours a day, 7 days a week, 365 days a year, that is guaranteed to turn your customers' heads.
Day or night, nothing is more effective than an outdoor electronic self storage sign for attracting customer attention. Ultra-bright LED technology showcases 2 to 12 lines of content, ideal for medium to distant visibility. LED technology also runs cooler, draws less power, and saves your business money, using only 10 percent the energy needed to run as compared to incandescent bulbs. Unlike traditional outdoor displays, which need to be designed and printed, LED self storage signs allow you to quickly update your sign from your computer with just the click of a button, letting you keep your content fresh.
What You Get with Each LED Self Storage Sign
Every new LED self storage sign comes with a laptop, pre-loaded with our custom design software, which allows you to combine text, photos, videos, and animations into attention-grabbing displays. You can even scale, crop, animate, and add creative effects to all your digital messages. Our signs are built to be UL approved, made with 30 percent black polyurethane for fully sealed cabinets. These self storage signs are both beautiful and rugged, ensuring your new sign will last for years, generating your business more profits.
A Satisfied Customer: A Space Place Self Storage
A Space Place is a self storage facility based out of the Austin/Houston, Texas area. Five years ago, the owner, Grantland Cohen, realized that they needed a way to increase public awareness and put their name somewhere that can be seen 24/7/365. That is when they started looking into LED advertising signs. Never having purchased an LED advertising sign before, Grantland wanted to make sure that the company they worked with was honest and recognized by the Better Business Bureau. After contacting several companies in the Houston area, he reached out to I.B.O. Associates and found exactly what he was looking for in our 25+ years of experience designing, manufacturing, and installing the highest quality LED advertising signs.
We suggested that A Space Place install two LED advertising signs, one for each highway entrance into their facility. Fast forward to present day, over 5 years later and both signs are still operating efficiently and pulling in traffic. In Mr. Cohen's words, it was a "job well done."
Order Your LED Self Storage Sign Today!
Our customers continually give us glowing recommendations, and we know you will too. To order a new outdoor or indoor LED self storage sign for your company, give us a call at 888-966-0774 and speak with one of our LED sign specialists today!
---
Testimonials
Richards ISD would like to thank you and Mike for a great product. We have gotten a lot of complements on our sign. We have been able to inform parents, students, and community members about events and information. The sign has been working great and is easy to use.
Mr. Boyce, Principal, Richards ISD
June 2016
We had double digit percentage increases in golf rounds and revenue the following year and I think that the signage played a major role in that success.
Rich Ballinger, Raven Nest Golf Club
Installation was simple and easy... It's now been over 5 years and the signs are still operating very efficiently. Job well done.
Grantland Cohen, A Space Place
We have had our electronic marquee 10+ years and have only had to call for help 2 times and both of those times were when we moved the modem to a new computer and you were right there to walk us thru and get us back up and running in no time and very quickly... I sincerely appreciate the partnership and look forward to many years to come.
Karen Odle, Vestavia Hills Chamber of Commerce