Electronic Signs for Schools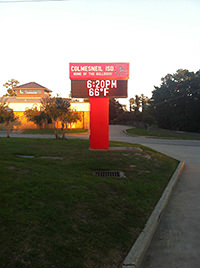 Schools are a hotbed of activity. Sports games, plays, events, fundraisers, and a hundred other activities and happenings need to be communicated and shared effectively to students and parents alike. While newsletters get thrown away and emails get deleted, everyone always sees the big school sign. What if you could take advantage of that high-visibility and use it to communicate current events for your school with ease? You can with an LED school sign from I.B.O. Associates!
I.B.O. Associates provides high quality electronic signs for schools to help principals and administrators get the word out on important things going on in their schools. Whether school is closed due to a bad storm or you just want to show support for the football team, an LED school sign will make sure your message gets noticed. Contact us today online or by calling 888-966-0774 to learn more and order an LED sign for your school today!
Features of Our LED School Signs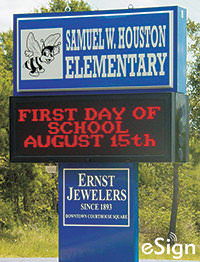 Electronic signs for schools from I.B.O. Associates are an effective solution for communicating news and events to the campus and the community. Not only are our signs effective, they are energy efficient too. All of our electronic signs for schools are built to be UL approved with LED bulbs rated for over 100,000 hours of use, while only using 10 percent of the energy as compared to incandescent bulbs. Our LED school signs are perfect for displaying lines of text in colors ranging from red, green, amber, and everything in between. Signs can also be used to display custom graphics and full color logos. Our LED signs are not just for outdoors either – install them indoors to share important information in the office, library, cafeteria, student union, bookstores, or anywhere else!
Used in combination with our custom design software, our attention grabbing LED school signs can dynamically broadcast campus happenings, both indoors and out.
These signs allow you to inform students, faculty, and the community about a variety of information. For example, you can:
Promote student activities, school spirit, athletics, and student achievements
Welcome and guide campus visitors
Announce schedule changes or cancellations
Broadcast safety alerts, weather warnings, and emergency instructions
Add our color video displays to scoreboard systems for a big-stadium experience that is surprisingly affordable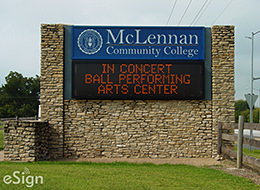 With every new LED school sign, I.B.O. offers a 5 year warranty. If a part malfunctions and needs replacement just let us know and a new one will be sent immediately. Your installer only needs to come out one time for the replacement, and once replaced, just send the part back to us. We make it a painless as possible!
Contact Us to Learn More About Electronic Signs For Schools
Become the leader in your community with a brand new LED school sign that is guaranteed to get noticed. No matter what kind of information you want to share with your students and their parents, an LED school sign from I.B.O. Associates makes it easy and cost effective. To order a new electronic sign for your school or to speak to a LED sign sales representative call us at 888-966-0774 or contact us online.
---
Testimonials
Richards ISD would like to thank you and Mike for a great product. We have gotten a lot of complements on our sign. We have been able to inform parents, students, and community members about events and information. The sign has been working great and is easy to use.
Mr. Boyce, Principal, Richards ISD
June 2016
We had double digit percentage increases in golf rounds and revenue the following year and I think that the signage played a major role in that success.
Rich Ballinger, Raven Nest Golf Club
Installation was simple and easy... It's now been over 5 years and the signs are still operating very efficiently. Job well done.
Grantland Cohen, A Space Place
We have had our electronic marquee 10+ years and have only had to call for help 2 times and both of those times were when we moved the modem to a new computer and you were right there to walk us thru and get us back up and running in no time and very quickly... I sincerely appreciate the partnership and look forward to many years to come.
Karen Odle, Vestavia Hills Chamber of Commerce