LED Sign Parts & Adaptive LED Sign Repair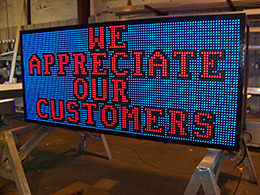 When it comes to technology, we know that even with the best quality sometimes things just do not work the way they are supposed to. Yet with the greater rate of competition that keeps growing daily, having your electronic message display go down can be disastrous for your business. That down time can have a huge impact on your profits, which is something that needs to be fixed FAST. That is why I.B.O. Associates can supply replacement parts for all types of LED signs. We either have the replacement LED sign parts you need on hand or we can easily secure replacement parts from several major manufacturers.
We carry an inventory of LED sign parts that can be shipped immediately to shorten any downtime due to a failure of components such as power supplies, ribbons, control boards, and radios. When you need fast, reliable, and effective service to get your LED sign back up and running, I.B.O. is the company to call. To get in touch with one of our experienced and dedicated LED sign sales representatives, call 888-966-0774.
A Complete Selection of LED Sign Parts
Whether you know exactly what LED sign part you need or you need help determining the part that has failed, we can help. We offer many different brands and types of LED sign parts. Some of which include:
Modules
Power Supplies
Ribbons
Control Boards
Radios
Many, if not all of these parts are in stock right now. For the LED sign parts that are in stock, we offer immediate delivery. If signs are under warranty with us, we will resend the replacement parts out before we receive the old one so the repair person or dealer only has to go out once to replace the part. Then, when fully replaced and functional, return the old part back to us as per the warranty agreement states.
Servicing Out of Warranty Adaptive LED Signs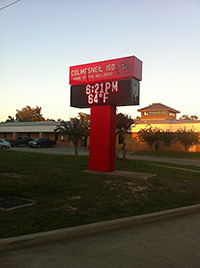 I.B.O. Associates is a proud dealer for Adaptive LED signs and parts. Therefore, we can supply parts for Adaptive LED signs, a US manufacturer of LED signs. If you need Adaptive LED sign parts and your warranty has expired with them, we have you covered. We have a majority of Adaptive displays parts in stock, which can be shipped to you immediately and reliably. In addition to Adaptive LED sign parts, we also carry replacement parts from several other LED sign manufacturers. We get satisfaction in knowing that we can supply you with all the Adaptive LED sign parts you need, when you need them.
Place an Order for LED Sign Parts
When you rely on your electronic message display or digital billboard everyday to help with marketing and promotions, having it go down can be terrifying. Down time can lead to fewer customers, which is something that I.B.O. Associates strives to fix for you. Whenever you need LED sign parts quickly, let I.B.O. Associates be the one to provide them for you. To learn more about our many different brands and types of parts in stock including Adaptive LED sign parts, contact us online or give us a call at 888-966-0774 to speak to a sales representative.
---
Testimonials
Richards ISD would like to thank you and Mike for a great product. We have gotten a lot of complements on our sign. We have been able to inform parents, students, and community members about events and information. The sign has been working great and is easy to use.
Mr. Boyce, Principal, Richards ISD
June 2016
We had double digit percentage increases in golf rounds and revenue the following year and I think that the signage played a major role in that success.
Rich Ballinger, Raven Nest Golf Club
Installation was simple and easy... It's now been over 5 years and the signs are still operating very efficiently. Job well done.
Grantland Cohen, A Space Place
We have had our electronic marquee 10+ years and have only had to call for help 2 times and both of those times were when we moved the modem to a new computer and you were right there to walk us thru and get us back up and running in no time and very quickly... I sincerely appreciate the partnership and look forward to many years to come.
Karen Odle, Vestavia Hills Chamber of Commerce