LED Window Signs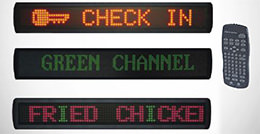 As a small business owner, trying to stay ahead of the competition can be a daunting task. Providing a quality product for a reasonable price is just not enough these days. A business needs to have something that makes them stand out or a unique trait that customers can use to automatically identify their business. An LED window sign has the ability to create this impact on your customers. If you have ever stopped to look at an electronic message display, you can bet your customers have done the same.
Therefore, it is no surprise that studies performed by the US Small Business Administration have shown that electronic message displays are the most cost effective form of advertising for a small business owner. An LED window sign allows you to display information such as special offers, community announcements, support for the local sports team, time and temperature, and other news worthy information on a medium that can be seen 24/7/365.
An LED window sign is capable of reaching a wide audience. Customers and others who walk or drive by your business will constantly turn to your engaging display when looking for news, specials, and more, thus increasing "Top of the Mind Awareness" and keeping customers actively involved with your business.
To learn more about how you can increase your market reach with an innovative LED sign, contact us at 888-966-0774.
Our Complete Selection of LED Window Signs
At I.B.O. Associates, our digital signs are sleek, innovative, and effective providing diverse communication to your customers. We offer a complete selection of LED window signs for sale. This includes one-line, two-line, and multi-line LED window sign displays. We also offer a range of colors including red, green, amber, and multi color units. We supply only the best quality signs, and we take the utmost care in building lightweight yet strong aluminum displays that are built to last. All of our LED window signs offer excellent brightness thanks to top-quality dot matrix's allowing them to display crisp and eye-catching information. We have various mounting options available for our LED window signs such as side mounting, hanging, or sitting.

Every purchase of a new electronic message display comes with a laptop, which is preprogrammed with our user-friendly software, allowing you to combine text and graphics to create innovative message displays. Our software features:
7 levels of speed
Any language found in Windows system
Log function
Real time clock and temperature display
All of our LED window signs are UL certified. Our LED lights are the highest quality, offering 100,000 hours of use and only draining 10% of the energy needed to run as compared to incandescent bulbs.
Contact Us to Place an Order for Your LED Window Sign Today
If you are ready to make a purchase of your new LED window sign or you would like to learn more about how a window display or LED sign can be used to promote your business, call us today at 888-966-0774.
---
Testimonials
Richards ISD would like to thank you and Mike for a great product. We have gotten a lot of complements on our sign. We have been able to inform parents, students, and community members about events and information. The sign has been working great and is easy to use.
Mr. Boyce, Principal, Richards ISD
June 2016
We had double digit percentage increases in golf rounds and revenue the following year and I think that the signage played a major role in that success.
Rich Ballinger, Raven Nest Golf Club
Installation was simple and easy... It's now been over 5 years and the signs are still operating very efficiently. Job well done.
Grantland Cohen, A Space Place
We have had our electronic marquee 10+ years and have only had to call for help 2 times and both of those times were when we moved the modem to a new computer and you were right there to walk us thru and get us back up and running in no time and very quickly... I sincerely appreciate the partnership and look forward to many years to come.
Karen Odle, Vestavia Hills Chamber of Commerce