LED Advertising Signs for the Entertainment Industry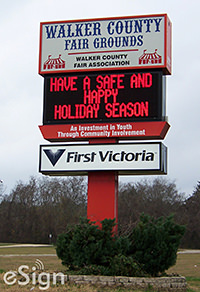 No matter what industry you are in, you are not going to make any money if no one knows you exist! It is a simple as that. At I.B.O. Associates, we want to help you get noticed by the people who matter most to you: your potential customers. These days, people are inundated with ads and billboards for every product and service under the sun. You are going to have to stand out from the crowd to be seen – which exactly what our LED advertising signs help you do.
If you are looking for a cost-efficient and effective way of reaching out to your target market with an LED advertising sign, then give us a call at 888-966-0774 or contact us online. Our LED sign specialists are always happy to answer your questions and help you find the LED advertising sign that fits your business's specific needs.
Benefits of LED Advertising for the Entertainment Industry
There is no doubt that LED advertising signs are an effective tool for marketing to your customers. From promoting specials and events to helping get you noticed, bright and colorful LED signs are an effective marketing tool. Our LED signs are ideal for all types of businesses in the entertainment industry including:
Arts, Music, & Theater Venues
Movie Theaters
Casinos
Hotels & the Hospitality industry
Sports and Convention Venues
…and Many More!
Why Purchase your LED Sign from Us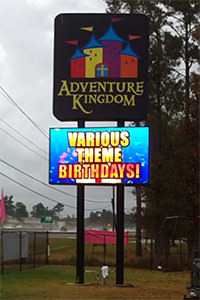 At I.B.O. Associates, we aim to deliver the best customer service and the highest quality signs to all of our customers. We can provide multiple styles of LED advertising signs, many of which are in stock right now. Our LED signs can be run day and night, with ultra-bright LED technology that allows you to create stunning text, graphics, or animations. Our LED bulbs use 90 percent less energy than incandescent bulbs, providing cost savings that you will notice immediately. Traditional outdoor signs, including print advertising and billboards, just do not compare to the versatility and efficiency of LED signs. This investment will continually aid your business in generating greater profits, customer attention, and community authority.
Every new LED advertising sign comes with a dedicated laptop programmed with our special design software, providing you with a multitude of prepackaged photos, videos, and clip-art. Your package will include:
1800 video backgrounds
2000 HD images
Hundreds of still images
500 fonts
Step above the noise and reach out to your target audience with a new LED advertising sign for your business!
A Satisfied Customer: Raven Nest Golf Club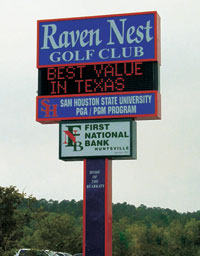 Raven Nest Golf Club had a growth problem. Namely, they needed a way to attract new golfers, as well as encourage current members to play more rounds. After contacting us, we paired them with one of our trusted associates, eSign, to get their new LED advertising sign up and running. With our guidance, their sign was installed and a professional advertisement was created and loaded up, so they could start their marketing campaign right away.
Raven Nest Golf Club recently wrote to us and reported "…double digit percentage increases in golf rounds and revenue the following year," saying that "…the signage played a major role in that success." By helping Raven Nest find an LED sign that fit their needs, we were able to grow their business – and we can do the same for you with a new LED advertising sign!
Contact Us to Learn More About How an LED Advertising Sign Can Benefit Your Business
I.B.O. offers full technical support to ensure you get the most out of your electronic message display investment. Whether you need help selecting the right sign or developing advertisements, our friendly representatives are always happy to answer any questions you may have on LED advertising signs for your business! Call us at 888-966-0774 to learn more or to place an order for your new LED sign.
---
Testimonials
Richards ISD would like to thank you and Mike for a great product. We have gotten a lot of complements on our sign. We have been able to inform parents, students, and community members about events and information. The sign has been working great and is easy to use.
Mr. Boyce, Principal, Richards ISD
June 2016
We had double digit percentage increases in golf rounds and revenue the following year and I think that the signage played a major role in that success.
Rich Ballinger, Raven Nest Golf Club
Installation was simple and easy... It's now been over 5 years and the signs are still operating very efficiently. Job well done.
Grantland Cohen, A Space Place
We have had our electronic marquee 10+ years and have only had to call for help 2 times and both of those times were when we moved the modem to a new computer and you were right there to walk us thru and get us back up and running in no time and very quickly... I sincerely appreciate the partnership and look forward to many years to come.
Karen Odle, Vestavia Hills Chamber of Commerce